John McQuarrie is an Ottawa-based photographer whose major clients have included
Coors, Marlboro, McDonnell-Douglas and Lockheed. But his real passion is producing coffee table books.
See his NEW BOOK FOR 2017 and his recent releases ~ by clicking on one of the Covers below.

---


He struck a match and transformed the city's economy. She penned a hit song that redefined rock music for women. They defied bigotry and — backed by hundreds of mothers wielding placards and hatpins — took a courageous stand for French-language rights. Some blazed trails for black, Chinese and Vietnamese newcomers. Another designed Canada's ultimate architectural jewel on the Ottawa River shore, a fitting tribute to his Indigenous ancestors. And one fellow carved a canal in the wilderness and gave Canada its future seat of government.
Capital Builders is filled with stories about women and men whose lives and legacies have shaped the capital, and often the world well beyond it. Originally published as a weekly series by the Ottawa Citizen to celebrate Canada's 150th birthday, the stories are collected here in collaboration with John McQuarrie, the well-known Ottawa publisher of several beautifully illustrated books. Embracing the city's distant past and its more recent evolution, Capital Builders reminds us that the creation of Ottawa is still unfolding.
– History writer Randy Boswell
teaches journalism at Carleton University.

​BUY NOW

---

---

Canadians have long had a fascination with the quest for our 'Canadian Identity'. For most of these 150 years many have tried to put their finger on it, to come up with a magic phrase that finally encapsulates who we are. But as the decades roll on, as the population grows and diversifies, as more and more layers are added, the "answer" becomes more and more elusive. While a very few have gotten close enough to nibble around the edges, perhaps Roy MacGregor has most eloquently summed up the hopelessness of the pursuit when he reflected on the difficulty of getting a grasp of the place; "It is a country you can only taste. And for a good many of us, all that does is increase the appetite for more."
And then there was this; "A friend once said, almost as a joke, that "Canada is the painting that Tom Thomson never finished." I like the sentiment expressed there. The final strokes forever out of reach."
How could you ever expect to properly capture such a country? Can you even try to talk about a – capital 'A,' one, single, specific – Canadian when the personality you are trying to define speaks two official languages, hundreds of other tongues, and is made up of faces in shapes and colours more varied than in any other country in the world? How can it be that a country so vast and so blessed with natural resources could shift from a place where four out of every five lived on the land to a place where four out of five now live in cities – all in a time frame so short there are Canadians alive who have lived in both realities?"
– Roy MacGregor

​BUY NOW

​
---

H

ere is Ottawa as you have never seen her before.

You will be present at her birth in the wilderness and, from the comfort of your favourite chair, watch her growth through two centuries.

An intimate portrait of many of the places that define the Capital, her businesses, culture, recreation, architecture, parks, homes, schools, transportation systems and people – evolving from virgin forest to thriving city.

Foreword The Honourable Andrew Scheer, M.P.

Leader of the Conservative Party of Canada

Afterword Mayor Jim Watson

BUY NOW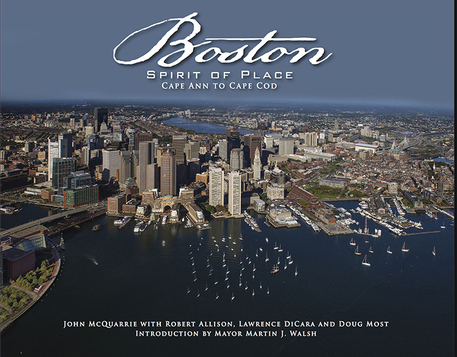 ​
T
he history of Boston plays a central role in the American story. In 1630, Puritan colonists from England founded the town, which quickly became the political, commercial, financial, religious and educational center of the New England region.
Here is Boston as you have never seen her before. You will be present at her birth in the wilderness and from the comfort of your favourite chair, witness her growth through almost four centuries – an intimate portrait of many of the places and events that define the city, her businesses, culture, recreation, architecture, parks and people evolving from virgin forest to thriving city
BUY NOW
Barnes & Noble
~
Amazon
~
Midpoint
Andover Bookstore, Andover The Book Rack, Newburyport Spirit of '76 Bookstore, Marblehead Hugo Bookstores
---
Trademark of Pavilion Books Holdings Limited used under licence by
​ [John McQuarrie, John McQuarrie Photography and all associated and related companies and subsidiaries].